Back to News
Seizure Action Plan Awareness Week: February 14-21, 2022
Epilepsy Alliance America is proud to promote SEIZURE ACTION PLAN AWARENESS WEEK 2022.
From February 14 to 21, the Second Annual Seizure Action Plan Awareness Week will highlight the importance of having a seizure action plan in place. The awareness campaign is supported by the Seizure Action Plan Coalition.
Check out this video about Seizure Action Plans:  What is a Seizure Action Plan (SAP)? – YouTube
A Seizure Action Plan – or SAP – incorporates tailored guidelines on how to respond during a seizure.
It includes essential information that can help people react quickly and reduce the harm a seizure can do.
In a recent study, only 30% of adult patients responded that they have a seizure action plan—and only 45% of pediatric patients had a seizure action plan. The use of a seizure action plan can offer more control to patients and caregivers by providing consistent, patient-specific guidance regarding seizure management.
A seizure action plan can provide clarification on patient and caregiver concerns, such as understanding what to do during a seizure, when watchful waiting is appropriate, when to intervene with at-home rescue medications, when to call 911 or go to the hospital, and much more.
WHO NEEDS A SEIZURE ACTION PLAN
All adults and children with epilepsy need a seizure action plan – especially those with new-onset epilepsy and those with ongoing frequent seizures who had more than one seizure in the previous year. Seizure-free patients who have risk factors for breakthrough seizures may
also benefit from a seizure action plan. It is especially important for those who need help to identify their individual
seizure pattern, do not have a plan, live far from medical facilities, and/or have intractable epilepsy syndromes (ie, Lennox-Gastaut, Dravet), who are at high risk for seizure clusters, status epilepticus, or have frequent nocturnal generalized tonic-clonic seizures, to have a seizure action plan. Discuss with your healthcare provider if you are in need of a seizure action plan.
Epilepsy Alliance America Tools and Resources
Seizure Action Plan – Available in English and Spanish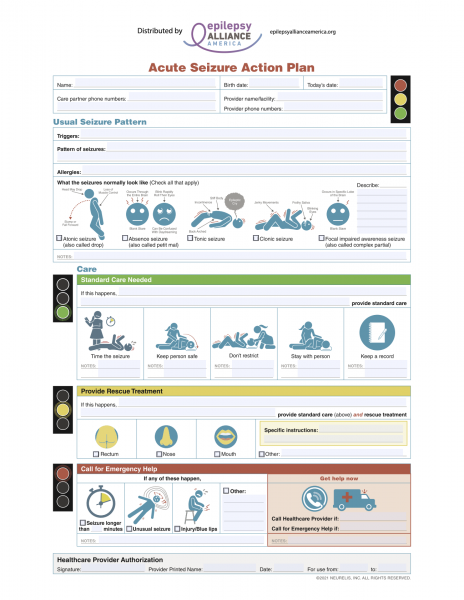 Rescue Medications:
Rescue Medications are an important part of Seizure Action Plans.
Check out these videos to learn how to give the most common Rescue Medications – available in English and Spanish.
Visit SeizureActionPlans.org for more information about seizure action plans and resources available to you.